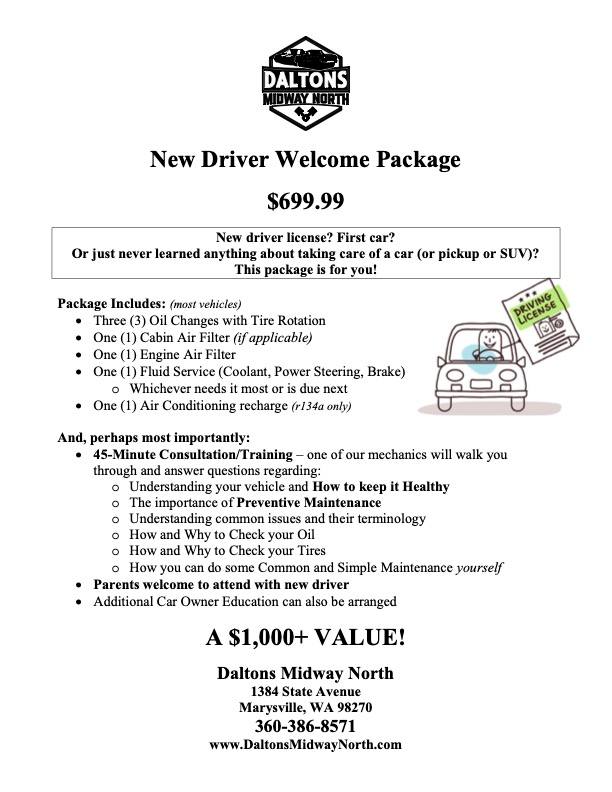 It's high school and college graduation season. At Daltons Midway, we think that a New or Used Vehicle makes a great Graduation Gift for your child or loved one. However, they may not know the ins and outs of Vehicle Maintenance. This is the role of our New Driver Package!
Vehicle Maintenance is very important because taking care of the small problems now will help prevent larger problems in Your Vehicle down the road (literally). By investing a small amount of money into Routine Vehicle Maintenance on a regular basis, you will Save Money On Your Vehicle over time.
Our New Driver Package, shown in the image above, is a great way to get a New Driver in the habit of Vehicle Maintenance. You can see that the New Driver Package offers whatever Auto Maintenance Services are necessary over the coming months, including Fluid and Filter Services. Further, the purchaser will get a consultation with one of our Trained Auto Mechanics, so that the New Driver will have an opportunity to learn about their Vehicle and its Maintenance from our Auto Mechanic Staff.
While this package is targeted at New Drivers, it is available to anyone. If you would like to pay in advance and save on Your Vehicle's Maintenance, as well as have a consultation with our staff, please ask about our New Driver Package! Give us a call at 360-386-8571 or visit our website to learn more.