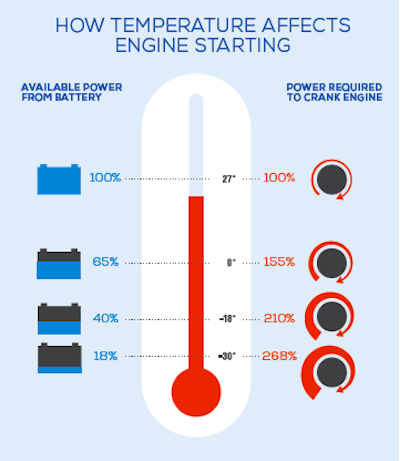 Do you know how old your Car Battery is? If it's more than a few years old, cold temperatures may bring a harsh reality for you and Your Vehicle. As seen in the photo above, even a Vehicle Battery which is at 100% strength only has 65% capability at freezing (temperatures listed in Celsius).
So, if your Car Battery isn't fresh, imagine how much less power it has to help you with a Cold Vehicle Start!
Be sure to check the age of your Car Battery during colder times, so you don't have an early morning surprise. If you'd like Vehicle Battery testing done, we are happy to help you out — plus, we have Car Batteries on sale if you happen to need a new one! Just go to our website to make an appointment, or give us a call at 360-386-8571.